The Dayton Knitting Guild maintains three community service projects: Click here to download a printable PDF set of patterns. Click here for a free mitten pattern from toddler to men's large from fingering to worsted. Click here for a variety of free hat patterns.
 Warm Up the Community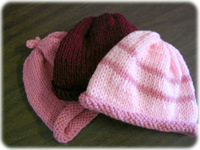 Becky Jarvi Chairman. Caps, ear warmers, mittens and scarves are knitted by our members, and distributed through various organizations to keep heads, ears, hands and hearts warm during the winter months.
 Lap Robes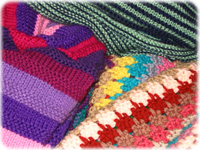 Marty Coblentz, Chairman. Lap robes, knitted by our members, are collected at the meetings and delivered to the Veteran's Hospital. Materials used for these items are acrylic fibers and any colorful design. Crocheted items are welcomed also. Size should measure about 36″ x 42″ and ties may be added for wheelchair purposes. Other items that we collect to give to the veteran's include motel soaps, shampoos, note pads, pencils, small toothpastes, nonalcoholic after shave, socks and hankies.
Baby Hats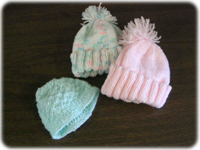 Louise Guglielmetti, Chairman. Members knit machine washable and dryer safe baby hats for Christ Child Charity.