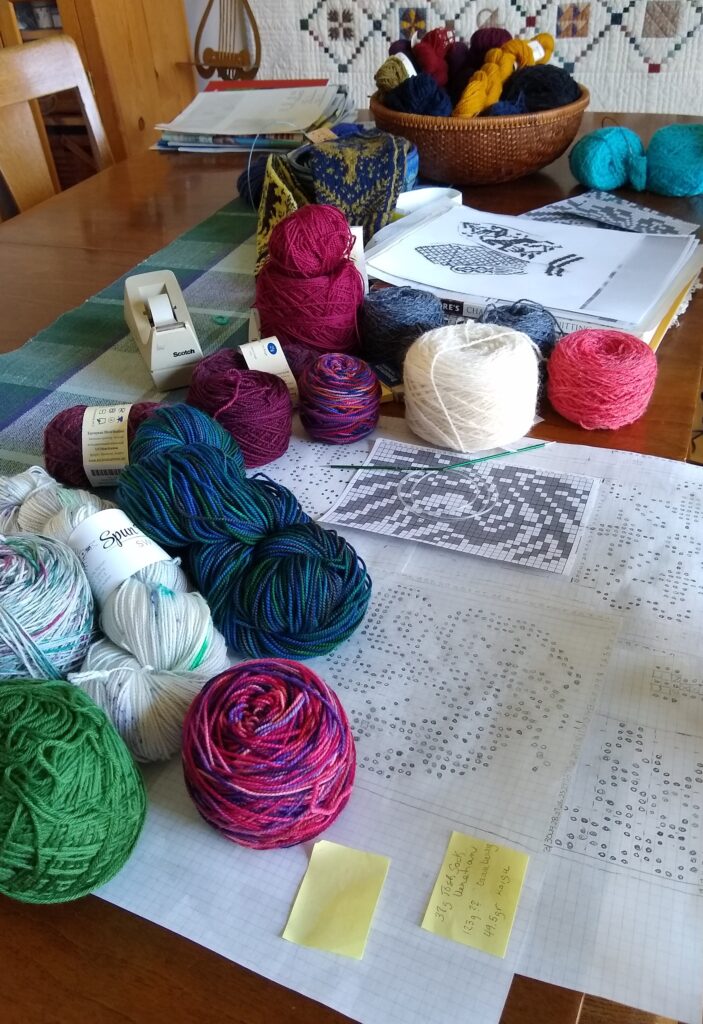 Because the Covid variant infections are escalating, we are not able to meet at St Mary Center yet. The room size makes social distancing impossible. So for September and October we will meet at the Dominick Lofino Park Shelter, 640 Grange Hall Road, Beavercreek 45430 from 9:30 to 12:30. This is the location where we had the picnic.
Beginning in November, we will temporarily meet at the Peace Evangelical Lutheran Church 3530 Dayton Xenia Road, Beavercreek. A map for this location is here. This location has enough room for us to be able to socially distance. Park in the back. Enter at the red awning. Pull hard on the door to open or push the handicap button. In the hallway, please wear a mask.
Sept. 20: Minimizing Underarm Holes when Picking up Stitches: Monica MacFarland will demonstrate how to work a top-down underarm minimizing the holes that often appear when you pick up the stitches for the sleeves or the body. Since we won't have electricity for a camera and a projector, she plans to use the "wandering minstrel" approach, so she asks for your patience while she moves from group to group.
Oct. 18: Provisional Cast On using two circular needles and how to create a Tubular Cast On. Please bring two circular needles and appropriate yarn if you want to try out this technique. This combination creates a very stable ribbed, tubular edge. This is useful for a corrugated rib like that used on Da Crofter's Kep, the 2021 free Shetland Wool Week hat pattern.
Nov.15: Peace Evangelical Lutheran Church
10:00am to 2:00pm – Fellowship Hall
 7:00pm to 9:00pm – Room 11
Monica MacFarland will demonstrate Trapping the Strand for Fair Isle Knitting with two hands. Since Janine Bajus will be our teacher for the retreat and her focus will be on Fair Isle design, reviewing this stranding technique will be helpful.
Dec. 4:   10:00-2:00 Holiday Celebration
Peace Evangelical Lutheran Church
Details TBD
We are constantly monitoring venue location details watching for changes in recommendations on gathering during the ongoing pandemic. We will send out an e-mail if things change.  Make sure we have your e-mail address so that you will receive any updates.
If you have an idea for a future program, please Contact Us.
2022 Retreat at Bergamo April 22,23, and 24th with Janine Bajus